Fleet Services in Flint, MI and Surrounding Communities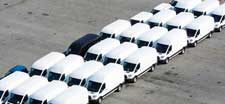 Cottman Transmission & Total Auto Care is dedicated to helping local and regional businesses and organizations keep their fleets running strong. By providing fast service, simple billing plans, and an excellent warranty, businesses, government entities, school districts, and service providers of all sizes have come to trust us with their automotive needs. From routine maintenance to complicated repairs, we're your source for expert fleet vehicle service in Flint and the neighboring communities. Give us a call to learn more about our great fleet programs!
Taxi Fleets
Rental Fleets
Light Duty Truck Fleets
Delivery Vehicle Maintenance
Limo Fleet Service

Service Truck Repair
Government Fleet Vehicle Service
Local Fleet Vehicle Maintenance
Regional Fleet Vehicle Maintenance
National Fleet Vehicle Maintenance
Fast Fleet Vehicle Maintenance
If you're searching for an experienced mechanic to assist with fleet vehicle maintenance in Flint, you've found it! Cottman Transmission & Total Auto Care is your one stop shop for fleet services, saving you time and money with each visit. Our fleet customers receive priority care, because we understand how detrimental vehicle downtime can be to your bottom line. Reach out to us to learn more about our fleet service programs. We look forward to helping you keep your organization running smooth.
Simple Fleet Vehicle Billing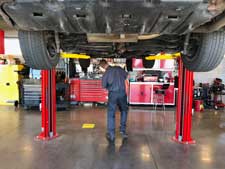 Our competitive, no hassle pricing comes with numerous convenient billing options. We will help you manage your account with simple authorization processes, detailed invoices and clear statements. We want to ensure your fleet repair and maintenance experiences go as smooth as possible in terms of your record keeping and keeping you on the road.
Nationwide Warranty
We stand behind our quality workmanship with a nationwide warranty. Whether you operate locally or across the country, you'll never be far from quality service should your vehicle need additional attention.

Ultimately, we want to get your fleet vehicles in and out of our shop fast, without sacrificing quality. Our dedication to great customer service and quick turnarounds can make a major difference in your ability to efficiently run your business or organization. Give us a call at (810) 267-2538 to request more information about our fleet service programs or to schedule superior fleet vehicle service in Flint or the surrounding communities.


"Cottman Transmission is the place to go for all of your car needs. The Cottman crew is exceptional to work with! I have been taking my 1971 Nova to them for the past year and all of the work they put in for me has been way beyond my expectation. They have done for me engine work, transmission work (converting from 3 speed to a 4 speed), Suspension work ( new springs, shocks), brake conversion, and a rear diff change from 3.08 to 3.55 posi. and I couldn't be any more happy how it turned out. I'll be taking my car to from now on. See you guys soon for an oil change."
~

Jared B.

"The engine in my Dodge Ram 2004 needed to be replaced. Cottman found one and installed at a reasonable price and in a very professional manner. Very happy with the service I received."
~

Michael S.

"Great service! Had my transmission rebuilt and then two days later my windshield wiper motor went out, so I took it back there. And Andrew and his team repaired it at just the cost of parts. And the transmission rebuild is excellent. I recommend Cottman Transmission to everyone for the auto service needs."
~

Craig M.