How to Choose the Right Automatic Transmission Fluid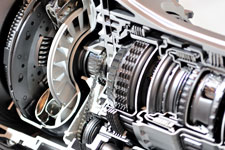 One of the most important factors a mechanic must take into consideration when completing transmission repair or maintenance is the type of automatic transmission fluid that must be used. It is critical that the correct fluid is selected because certain transmissions require specific fluids. Much like certain engines require certain types of oil, the transmission must have the right fluid to be able to properly operate. When your vehicle is in for transmission service, you should discuss your transmission fluid options with your service provider to ensure your vehicle receives the proper one. Here are a few key points that should be considered when transmission fluid is being selected for your car or truck.
What's the Difference Between Transmission Fluid Types?
There are subtle differences within transmission fluid types that can prevent your vehicle from operating properly if the wrong one is used. The chemical makeup of the fluid, which can dictate viscosity and lubricating properties, is a primary variable between transmission fluids. The most common transmissions fluids include Type F, which is what many classic cars use, Dexron III/Mercon, which is popular in domestics and imports, including Ford and GM, and HFM transmission fluid, which is most often used in Chrysler, Honda, Toyota and Hyundai products. So how do you choose the right one for your car?
Owner's Manual
The best way to figure out which type of automatic transmission fluid should be used in your car is to consult your owner's manual. This is direct from manufacturer information that will ensure the right option is selected for your vehicle. Be aware, some vehicles require brand specific fluids, more on that in a moment.
Conventional or Synthetic Transmission Fluid
Another variable to think about when selecting transmission fluid is conventional versus synthetic. While many new vehicles call for synthetic fluid, not all cars will perform their best if it is used. Speak with a transmission repair expert to determine which option is truly best for your car and driving habits.
Brands of Transmission Fluid
Once the right type of fluid is chosen, primarily between Dextron/Mercon, and HFM, you will need to select a brand to use. There are numerous well known brands out there that you're sure to recognize, but remember, some vehicles are indeed brand specific. Consulting your owner's manual or speaking with a professional transmission service technician will help ensure the right brand of transmission fluid is used in your vehicle.

When you bring your vehicle to Cottman Transmission & Total Auto Care for transmission service in Flint, you can rest assured our team will use the right fluid for your vehicle. We would be happy to chat about your options for transmission fluid so that you're fully aware of what's going into your car or truck. Don't hesitate to call us at (810) 267-2538 if you have any questions or are ready to schedule superior transmission repair in Flint or the surrounding communities.
Cottman Transmission & Total Auto Care - Flint Blog
Written and Published By MORBiZ